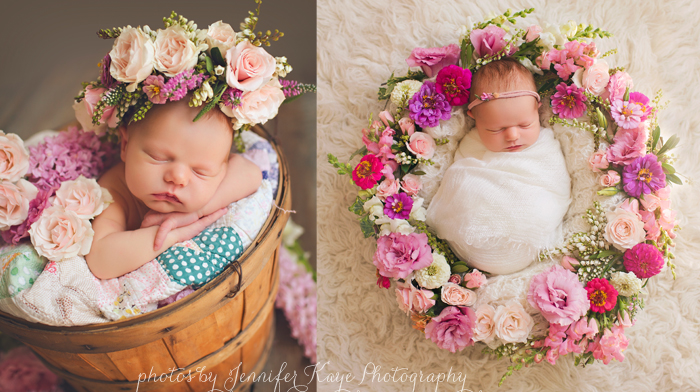 I recently had my second daughter on 8/15/15 and we are totally in love with her. Our sweet baby Vivian is the perfect addition to our family and she is a great baby and has even adjusted well to coming to work with mommy. I was back at work right away after having her, but before I went back we were lucky enough to have my friend Jenny at
Jennifer Kaye Photography
 capture her first week of life with beautiful newborn photography. Of course, Jenny and I love a good creative collab so I brought the baby and a bucket of flowers and some family heirlooms and worked with her props to create some beautiful settings for my beautiful little baby to pose in.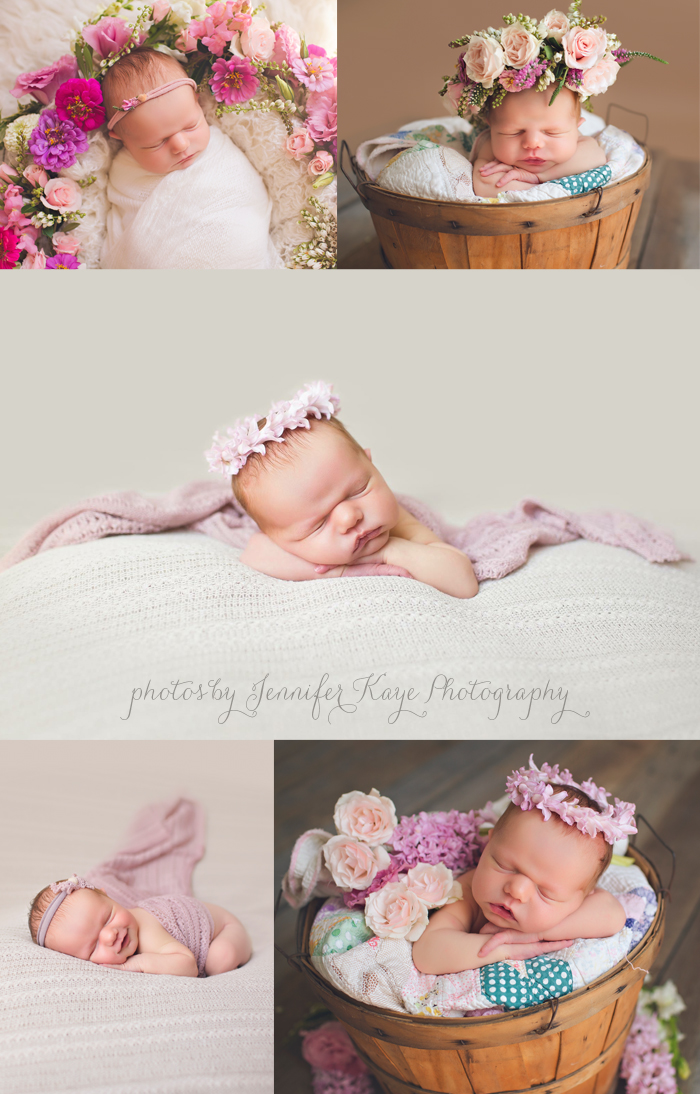 I also whipped up not one, but TWO floral crowns. The first was a very simple but chic ring of hyacinth blooms. The second was a big, fancy mix of blooms and foliage that included Veronica, zinnias, spray roses, seeded eucalyptus and my current favorite flower: Pieris Japonica. While I loved the floral crowns on her, the pièce de résistance was Jenny's twig basket that I ringed with flowers + foliage. Vivian fit perfectly within the ring of pink and white zinnias, spray roses, pieris, snapdragons, lisianthus, Veronica, ivy, seeded eucalyptus and other blooms. My favorite non-floral newborn vignette was our "generations of awesome women" setting. We placed Vivian in a box atop my vintage baby quilt from my late Grandma Norma and covered her with a baptismal gown sewn and embroidered by my late Grandma Vivian (for whom my daughter is named). The box was surrounded by other pieces of significance--the vintage teddy bear belonged to my mother Patricia, the vintage Barbie (from Barbie's 2nd year in production) belonged to my mother-in-law Mary and it was wearing clothes knitted by her late Mother Wilma. The blue snuggle bunny belonged to me and I cuddled with it all the time in my first few years of life and the final generation represented of course was the baby...I love that I could pay homage to all of these amazing women in one photo.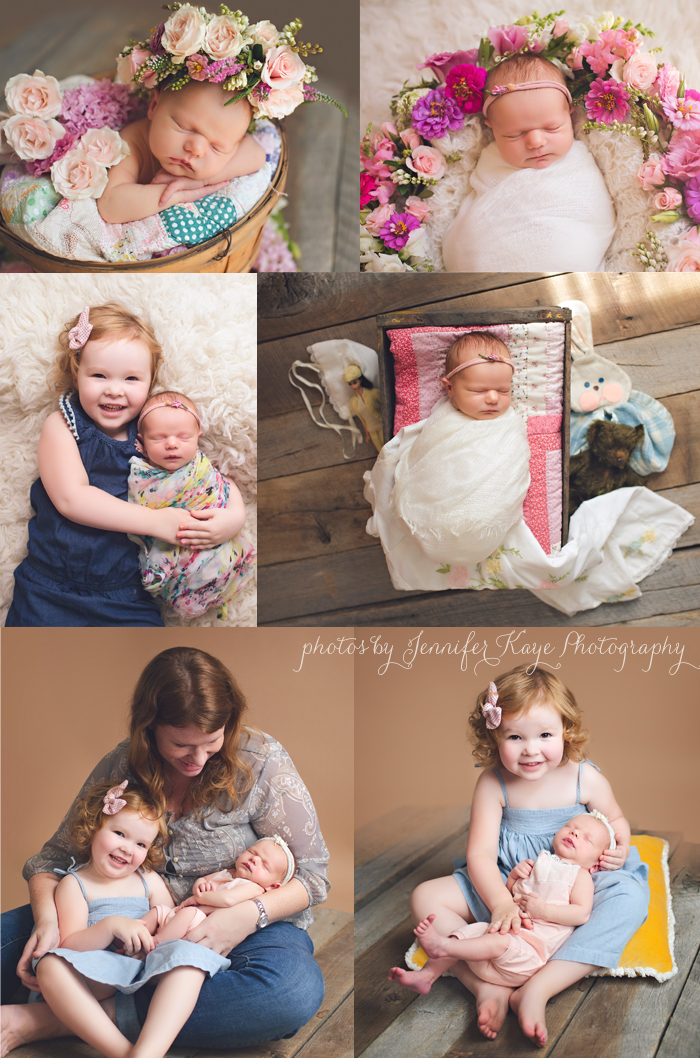 Perhaps my favorite images though, are those of my two daughters together. We took these "sisters" photos a few days after the original newborn images and Jenny even captured a few of the three of us Janes gals together. Aria really loves her little sister Vivian and is an awesome big sis! I love my girls, I love these photos and I loved having my talented friend Jenny capture Vivian in her first week of life. I highly recommend getting newborn photos done--and highly recommend Jennifer Kaye Photography.