My Mother-in-law (Mary) turned 60 this past weekend so we threw her a 1950's inspired birthday bash equipped with 50's toys, games, food, trivia and flowers.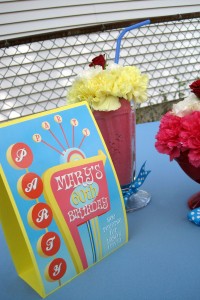 I created an invitation that looked like a 1950's motel sign for the event and based the rest of the color scheme and decor off of it. We did carnation sundaes, milkshakes and cupcakes since carnations were the flower of the decade in 1950. We also put out squirt guns, bubbles, frisbees and fans for the guests to use and enjoy. The color scheme was teal blue, magenta, yellow with red accents. I used a variety of sundae and soda glassware for the containers filled with colorful Oasis Foam Powder to hold the assorted carnation "ice cream and whipped cream"  and spray rose "cherries". My friend Amy Constanzo (of Aim Studio) helped me put these fun floral centerpieces together and it was fun to experiment with the Foam Powder since we'd both never used it before.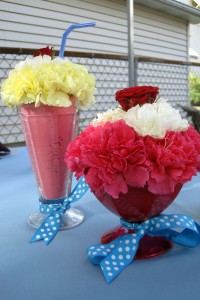 Everyone at the party LOVED them and some of the guests even got to take them home.
It was a great birthday party and Mary had the best time ever. Happy 60th Birthday Mom II!
-