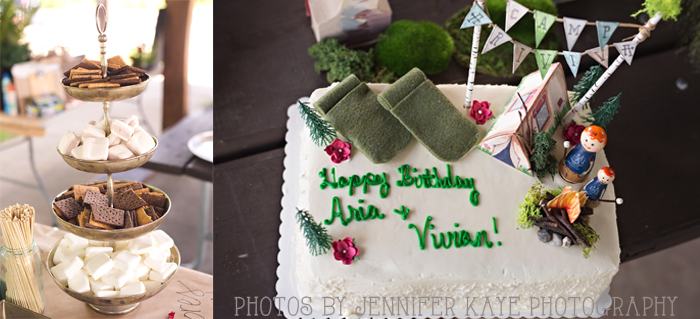 I am in the midst of planning and designing things for my middle and oldest daughters' joint birthday party coming up in August and it dawned on me that I never blogged about their awesome CAMP ARIVIVA Summer Camp/Camping themed birthday from last year! The party was called "Camp AriViva" because of their names-- Aria + Vivian = Ariviva. Their Camping party was featured on Kara's Party Ideas Blog and all of the photos were taken by Jennifer Kaye Photography. I LOVED this party. More importantly, my girls and their friends LOVED the party and had so much fun. We had so many games, crafts and other activities and tons of great food (which was mostly homemade except for some Brown's Chicken!)  Take a look at all of the fun details from their party!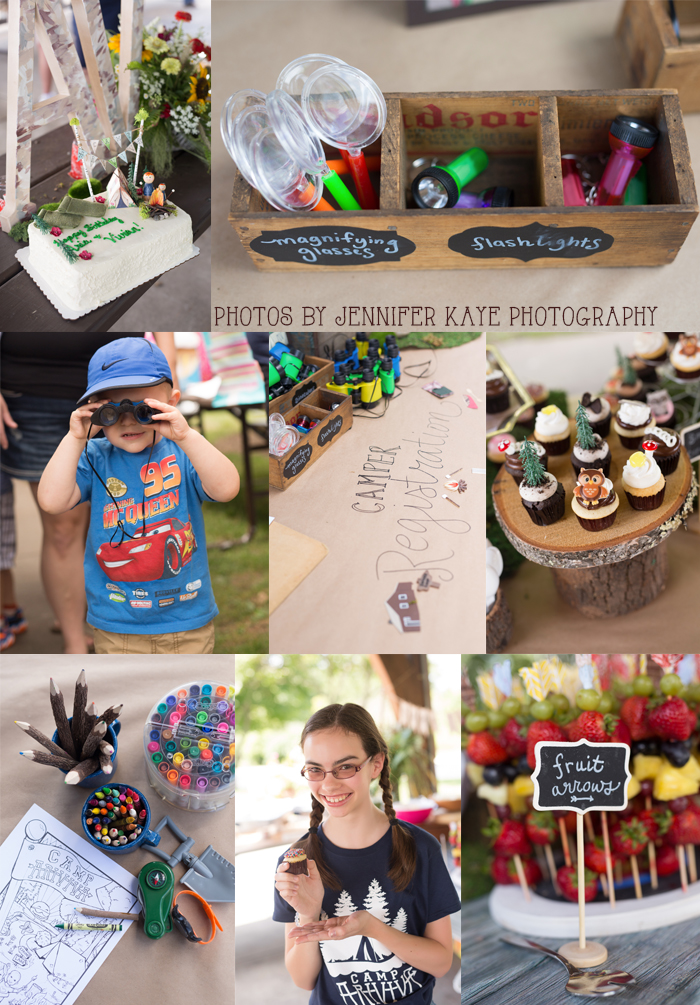 Since it was a Summer Camp theme, the "camp counselors" had matching shirts to designate they were helpers and the birthday girls had "Happy Camper" tees. Campers arrived to the registration table and got a favor bag, favor item of their choosing (magnifying glass, binoculars or flashlight) and 2 adventure activity sheets. One sheet was for a scavenger hunt and one was an "I spy" type activity. There was also an Arts + Crafts table that had coloring book sheets that my art student Cassie and me designed, god's eye yarn activity, and painting wood birdhouses, peg people and cars project as well. There was also a play tent, camping tools, croquet set, various sports balls to play with, and fishing poles down by the lake. Just like real SUMMER CAMP--but more fun!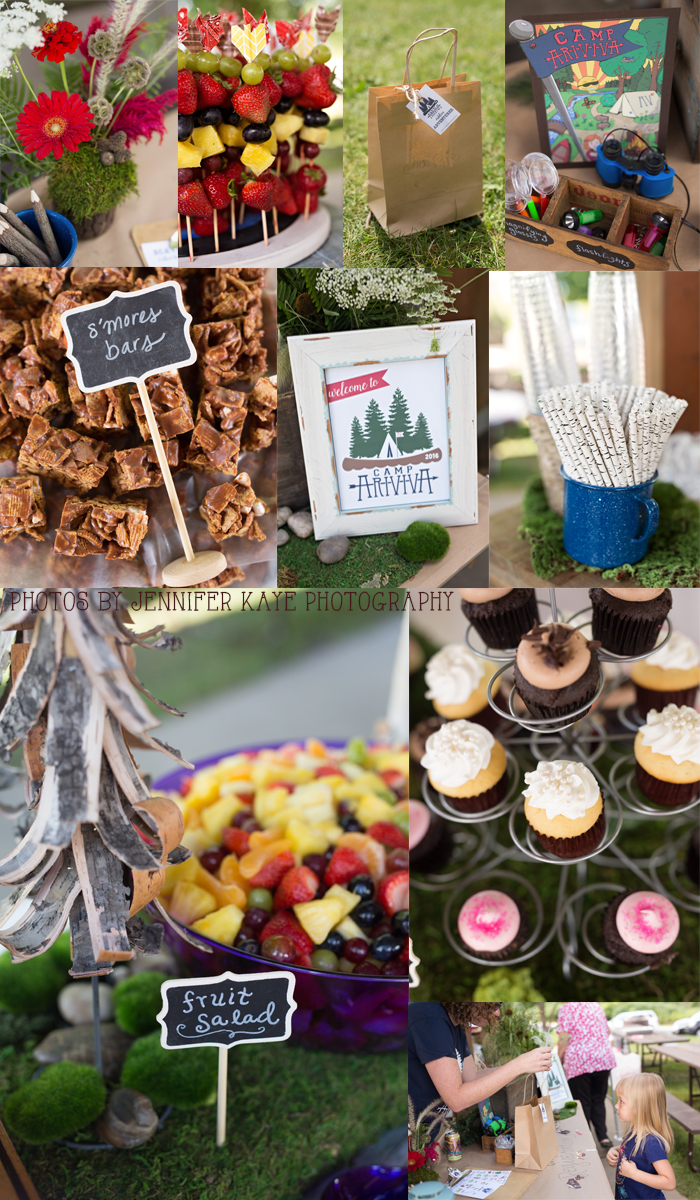 Food and beverages included grilled veggies, hotdogs, brats, fried chicken, baked beans, Grandma's potato salad, pasta salads, fruit salad, fruit "arrows", chips, lemonade, watermelon cucumber cooler (from Trader Joe's), water with lemon as well as coolers filled with juice boxes + pop. Desserts included mini handpies Nana made, S'mores bars, a S'mores making station and Smallcakes cupcakes. I ordered a small sheet cake from Marriano's and decorated it with peg people that I made to look like my daughters, along with a little tent, sleeping bags, mini party banner and tiny campfire I made.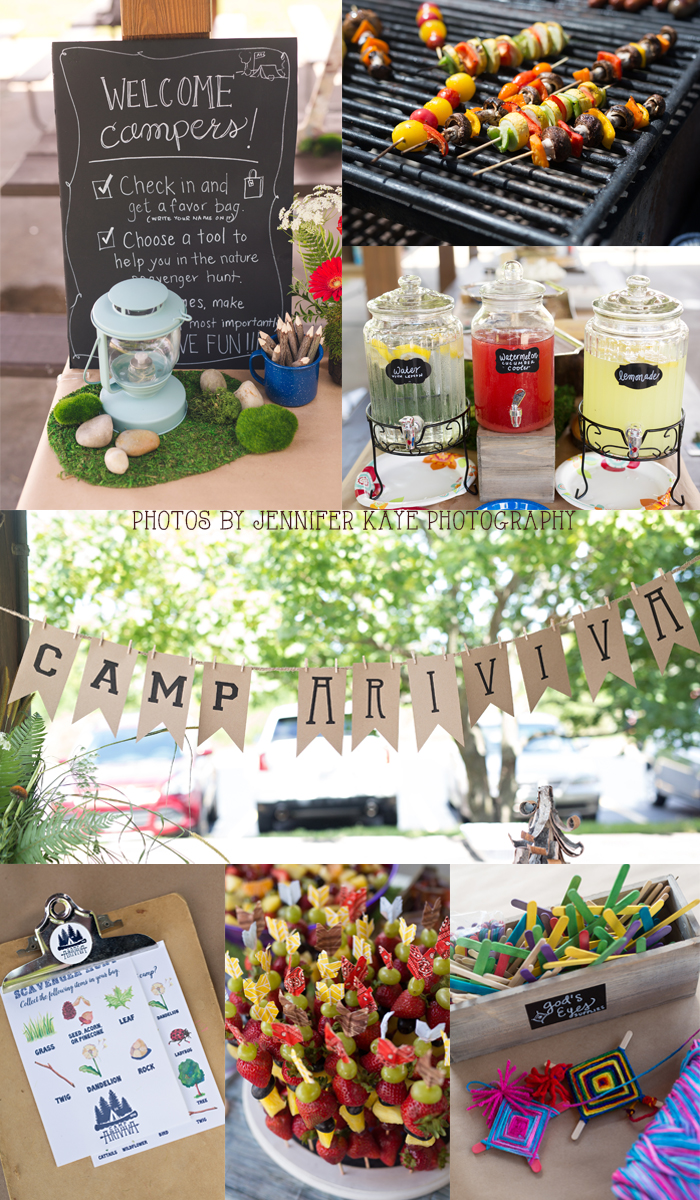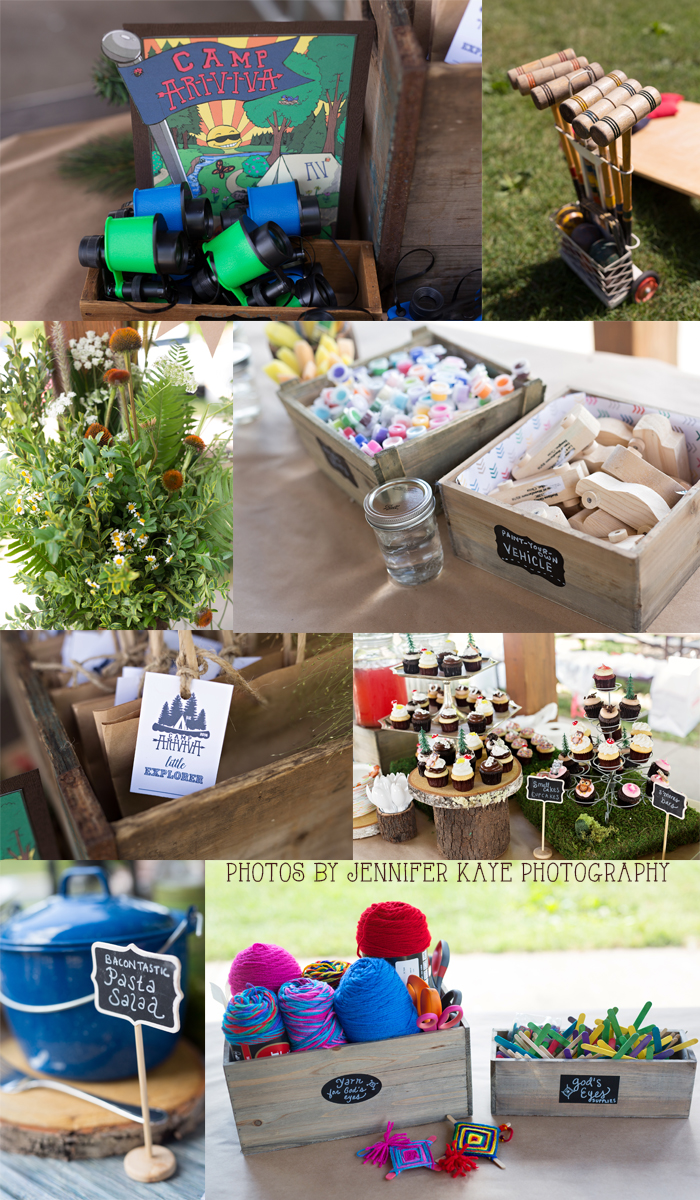 Decor included some weedy, wild floral arrangements, wood slabs, chalkboard signs, wooden crates, banners, moss, enamelware camping cups and pots, twig pencils, birch straws, and a wooden bull's eye I made to display the "fruit arrows".
I really am obsessed with creating unique details for their parties. I want my girls to look back and remember these awesome birthday experiences and know that I really love them so much and while we may not be able to get them tons of gifts, I can use my creativity and sweat equity to create really cool parties for them instead!
So a little reveal about the next party... this time they will be having a FIESTA birthday inspired by Mexican food, decor, and culture as well as drawing inspiration from two shows they love--Elena of Avalor and Dora the Explorer. The party will feature bold colors, some cool floral elements, mini piñata favors, some Elena of Avalor themed games and lots of great food. I have a lot of work to do before the party but I am very excited and so are the girls!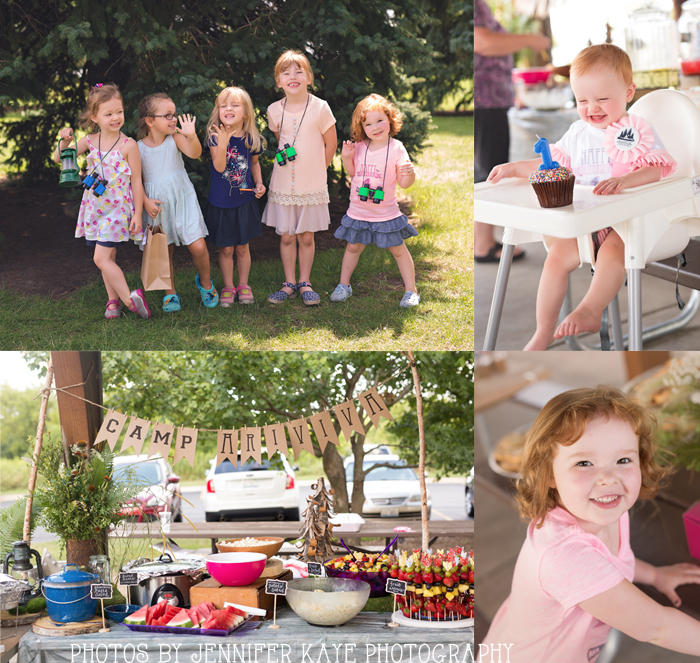 Thanks to Jennifer Kaye Photography for these amazing photos of the party.