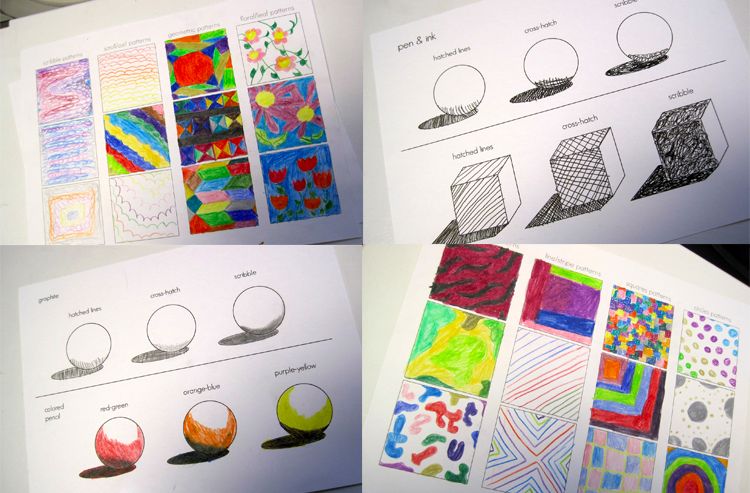 I just started private art lessons with a new almost 10-year old student and art entusiast named Cassie. I've missed having an artist to guide in all things art so I was so glad that her mom contacted me. We've been busy doing some drawing fundamentals stuff in the first few classes we've had thus far. The first day of class we worked on
Pattern Development
. I thought this would be a fun way to learn techniques while experimenting with all of the new art supplies I had her get for class. She got some "artist quality" colored pencils, a graphite pencil set ranging from 2H to 6B, a kneaded eraser (which might be her favorite thing as she sculpted it into a cat shape), blending stumps, a sketchbook, a bristol board pad, and a nice pen set (ranging from 005 to 08mm). She will never go back to lame kid's school supplies for drawing again! The second class we focused on
Shading Techniques
such as hatched line, cross-hatch, scribble, and learned how to create smooth gradients. We also delved into complimentary colors and how combining them creates a nice dark color which works great for shading. I made worksheets for all of these things so she could work on finishing them up at home. We only have an hour together a week so we usually don't finish everything in class, but she always understands the concepts enough to complete them outside of class and bring them back to me the following week. I am really proud of her! She is a great artist!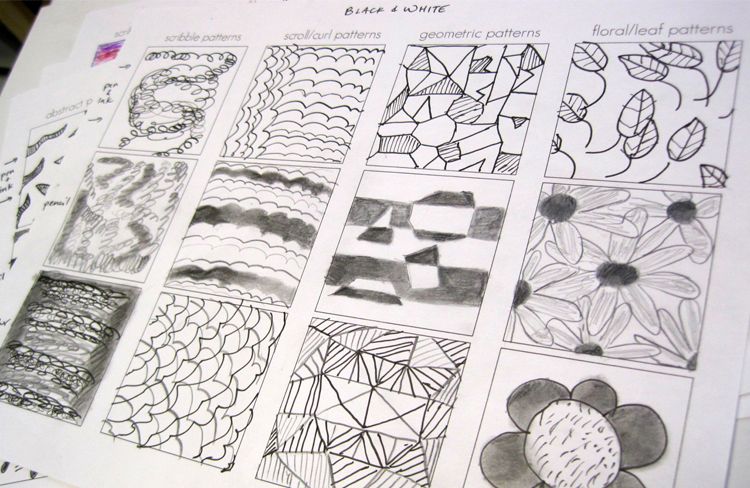 I also made a worksheet for Cassie to further focus on
Shading Techniques
using a series of circles and a "light source" to determine where the highlight and shadow would fall on the ball/sphere. Cassie used graphite and a blending stump for these--I think she did a great job!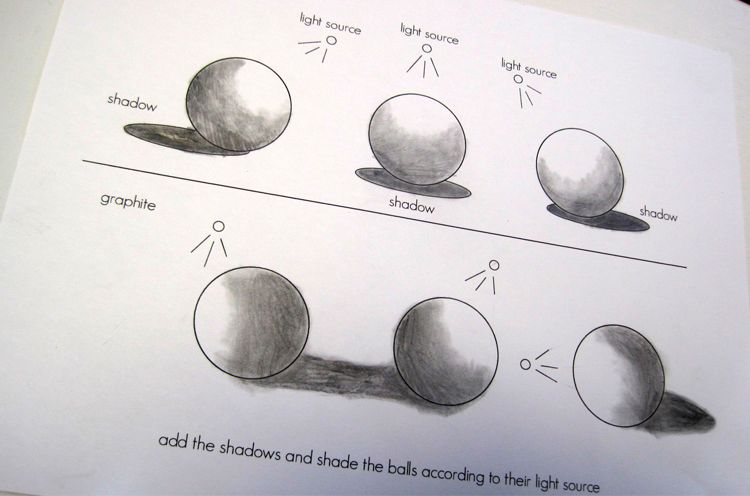 We also did some good old
Still Life Drawing
with some fresh white roses and vases I had at the studio. I shined an OTT-light at the vases to cast a shadow for the drawing and dimmed half of the overhead lights so there was more contrast on the still life. My work is the featured below with Cassie's so you can get a better idea for the exercise. The first still life of the 3 flower vases we started with fine, faint, hard (2H) pencil lines to get down the shapes of the vases and flowers. Then we went in with some stronger, thicker, softer (HB, 2B, etc.) pencils and accented edges, emphasized shapes and contours, adding some shading, etc. We finished the pieces by adding some colored pencil accents. I love how they turned out! After completing our still life exercise, we then worked on
Couture Line Drawing
techniques--which Cassie found challenging at first (as did I many years ago!) You can get the general feel from hers that it is a rose in a vase so I had her practice this technique more in her sketchbook as her "art homework". As a result of the at-home practice she is getting better and better at contour line!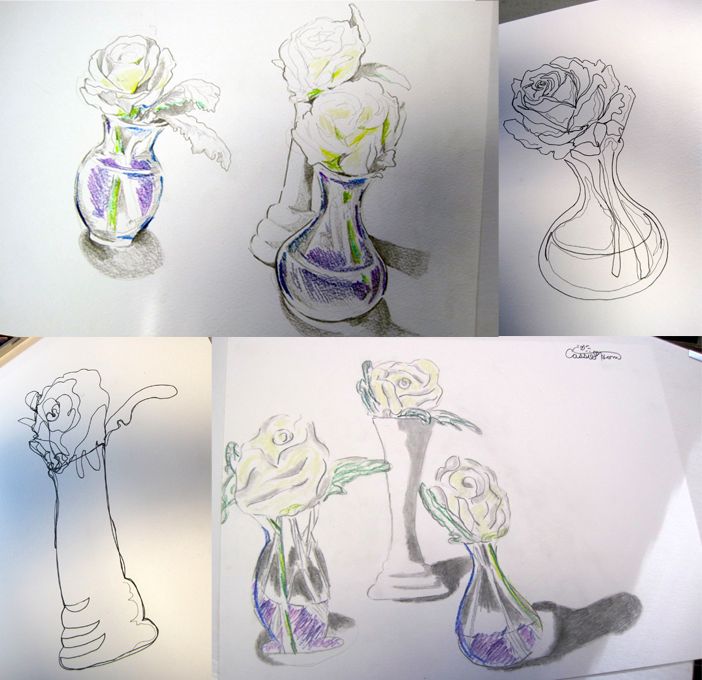 If you are interested in any of these worksheets, please leave me a message on this blogpost and I can email them to you. I have 2 pattern worksheets, the shading/light source ball worksheet, and the 2 ball/cube shading/line technique sheets. All featured in the projects above.